Sundays & Dragons - A Weekly Sunday RPG Meetup at CC Stores!
---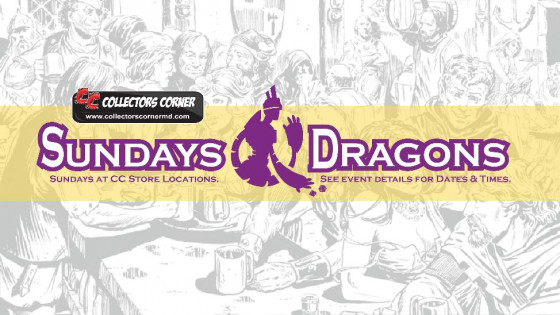 Sundays & Dragons - A Weekly Sunday RPG Meetup at CC Stores!

Kicks Off Sunday Jan 7th from 12 PM - 6 PM at Collectors Corner Parkville, Runs til 4 PM at CC Bel Air, and 5 PM at CC Baltimore.

Purpose - Bringing together Role Playing Gamers, Primarily All Editions of Dungeons & Dragons from D&D to D&D 5E and everything in between + other games as well. Our goal is to help Players & GMs meet other Players & GMs, prompting those who have never played to learn to play or find a group and play at the store or plan a future game elsewhere. Learning, Playing, Planning are all encouraged.

Impromptu Games, Character Creation, Pre-planned Events & Campaigns are all planned for this new weekly Sunday Ongoing Event.

We are also looking forward to adding miniature painting demonstrations, various one shot adventures and working with various existing groups to encourage more games taking place on this day of the week in the stores.

Jan 7th we'll be providing Free Pizza and refreshments along with some surprise inaugural Sundays & Dragons items for everyone attending at each CC store location.

We'll be posting more information soon...

---