About Collectors Corner
---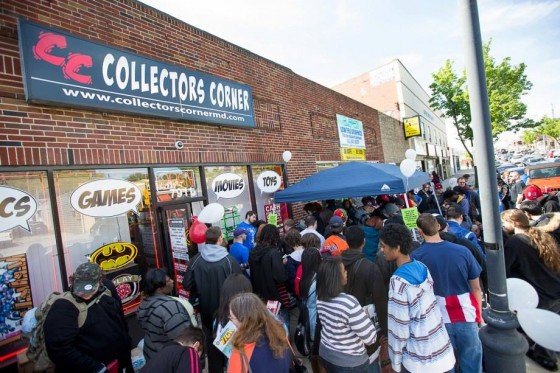 COLLECTORS CORNER opened its doors to customers in September of 2001 on Harford Rd. in Parkville, Maryland. Since that time through our store, web site, and conventions, we have provided comic book readers and collectors with a wide variety of comic book related merchandise. We are known for our standard 10% off subscription discount on all new comics arriving weekly and for the largest selection of new comic titles in the area, plus a huge inventory of organized and alphabetized comic book back issues, retro video games, manga, DVDs, t-shirts, posters, new & vintage toys/action figures, related collectibles and more. If you are in the Baltimore area, stop in and say hello!
Services:
SUBSCRIPTION MEMBERSHIP: IN-STORE and ONLINE - Sign up for 3 monthly ongoing comics titles or magazines and receive 10% off all NEW comics & 50% off all VARIANT COVERS in addition to 10% Off any BACK ISSUES, TRADE PAPERBACKS, GRAPHIC NOVELS & BOARD GAMES purchased for life. Never miss a comic again!
WANT LIST SERVICE: Send us a list of comics, games, toys or collectibles you need, we will search our vast inventory of over 300,000 back issues and thousands of collectibles for the comics, games, video games or toys you have been looking for.
FREE MEMBERSHIP (IN-STORE): This card is for the avid reader/gamer that purchases trade paperbacks, graphic novels, and games regularly. SIGN UP for this card, no deposit required and save 10% off any BACK ISSUES, TRADE PAPERBACKS, GRAPHIC NOVELS & BOARD GAMES purchased for life.
PRE-ORDERS: Order any item from the monthly PREVIEWS catalog and receive 10% off the retail price. PRE-ORDER and save 10% off BOWEN DESIGNS statues and mini-busts, t-shirts, books, or any other PREVIEWS catalog item.
CGC SUBMISSIONS: COLLECTORS CORNER is an authorized CGC Dealer and Member, call or stop in to schedule an appointment with us to bring your prized comics to our store where you can receive a free appraisal, and submit issues to CGC at discounted rates through our CGC MEMBERSHIP.
BUYING & SELLING: COLLECTORS CORNER is always in the market to buy comic books & toys, collections, large and small, new and old and related collectibles. Free Appraisals are available by calling to schedule an appointment to bring your items to the store or have us come to see you.
COLLECTORS CORNER is the comic shop you have been searching for; a store you can feel comfortable bringing your kids to! We will go the extra mile to give you the best we have to offer in customer service and selection. Our store is clean , organized and huge so come and see us today or shop with us online and see why we are the store for you!