CC 22ND ANNIVERSARY SALE! Friday, 9/1 - Sunday, 9/3.
---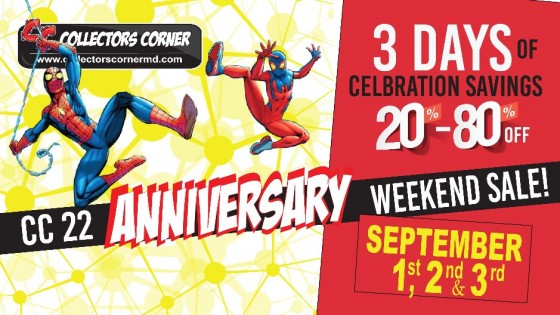 CC 22ND ANNIVERSARY SALE!
Friday, 9/1 - Sunday, 9/3.
22%-80% Off Everything Store-wide for 3 Days Celebrating CC & YOU Sharing 22 Years of #CollectorsCornerMD "Maryland's Coolest Stores!"
SATURDAY 9/2 BOTH LOCATIONS
OPEN 11AM-8PM
– DRINKS - CHA TIME TEA TRUCK at Parkville HQ 12NOON-5PM
- FREE 22 CC TOTE BAGS to the First 22 Customers that Spend $50 or more at either store during the Sale on Saturday.
- CAKE Cutting of the 22nd Anniversary CC Cake, Shared with Customers at Both Stores while it lasts!
- 22% Off ALL MERCHANIDISE IN THE STORES! (No Exceptions)
- Yes ALL MERCHANDISE includes TCGS, DICE, SUPPLIES & EVERYTHING ELSE too…
- 75% Off All Used/Pre-owned Graphic Novels and Manga with 50% Off Pre-owned Sticker.
- 80% Off All Bagged & Boarded Variant Covers with variant Cover Sticker.
- 60% Off All Super7 Ultimates and NEW MEGO FIGURES.
*10% OFF MEMBERSHIP DISCOUNT, ADDITIONAL DISCOUNTS or REWARDS & BELLY REWARDS DO NOT COMBINE OR STACK WITH IN STORE SALES. *Discounts DO NOT Combine *MERCHANDISE - DOES NOT INCLUDE Pre-orders, Special Orders or Gift Cards.
---